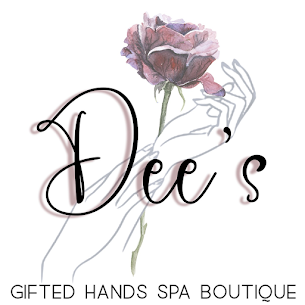 About Us
WHY ARE WE THE BEST?
At Dee's Gifted Hands Spa Boutique, we've grown our business by creating the perfect, most sought-after facials in the industry. More than just a custom facial treatment, each of our services are transformative treatments that work to provide immediate glow and long-lasting results for each of our valued clients.
Gifted Hands Team
THE BEST OF PROFESSIONALS
Relax. Refresh. Renew.
You owe yourself this moment
Indulge in one of our pampering treatments.
What a surprise to have a spa experience in Youngtown! Dee will transport you to another world via her high quality products and facial techniques. I've had both her micro needling and 3 specialty facials and they were the best I've ever had. Her nursing background translates into the kind of attention and caring spirit you usually don't find in many aestheticians who might be proficient technically, but don't have a healing spirit. If you go, ask her to describe everything step by step so you can know just what those fabulous scents are and what they are doing. She also doesn't forget about your neck, which adds to the experience!
Dee is excellent and pays attention to detail. She is friendly and professional and cares about her client's skin care. She listens to their need's regarding skin improvement
I always have the most wonderful experience at Dee's gifted hands Spa Boutique. Dee is truly the most talented aesthetician and Registered Nurse you'll ever meet. The moment you walk in you are greeted with experienced staff and a warm welcome feeling. The services Dee provides are superior beyond any place imaginable. I will always return to her, she is the one you can trust to give you the results you are looking. My skin has never looked so youthful and glowing. I highly recommend this place. From facials to microneedlings, Botox and Filler with so much more to love. I get something different every time I go. I love the facial membership she offers, it's simply the best, with so much to choose from. Get to her if you're looking for immediate results that last a life time! She really does take you skin back in time, in no time. Talented, professional and trusted. Thank you Dee!
Wonderful service! Every facial is relaxing and Dee sets expectations. Definitely my choice for facials and skin care.
Dee is amazing! i have becoming to her for about 2 .5 years! She is knowledgeable so if your not sure what you need she guides you and provides you services based on your needs!
I love Dee and her crew! Go get a facial! You'll be pampered and feel beautiful! My skin has never looked so great!
Every visit is rejuvenation and enjoyable with my daughter ???? I recommend it any service you obtain is excellent along with the smiles and welcoming vibes !
Wonderful facial! Great customer service, clean environment and relaxing experience.
Best spa ever I highly recommended . Let's start ... 1)the girls are amazing you feel so spoil when you get there and they treat you like a queen . 2) both of them have a lot experience in the medical field and with patient care that is a plus because as a nurse I feel secure with them and with their knowledge.3) all the treatments they offer are affordable not like other places they charge you for an arm and leg .
great service, fun and friendly. amazing prices and quality
Ladies were so nice and truly gifted. My first professional massage, facial and v steam. This will be a stop everytime I visit the area.
Dee does an amazing job making sure my facial is customized to my skin at that time. It isn't a one size fit all facial. She also explains every step of the way which I appreciate
Loved my facials and wax today.
Love, love, love it. Had a great relaxing experience there. Dee was fabulous and so very knowledgeable. She truly has gifted hands. Staff was courteous and helpful in answering questions. No doubt in my mind about returning to this spa. So glad Groupon offered the deal.
Best, most relaxing facial ever!
Outstanding. I will definitely return. From the greeting to the attentiveness during my microdermabrasion, money well spent. Try it!
Highly recommend! Clean, relaxing and great customer service.
A wonderful experience and happy that I have found my new esthetician! Dee was sure to give step by step of the process as this was my first microdermabrasion session.
I highly recommend Dee for a facial. She gave me a wonderful facial and explained in detail everything she was doing. Great place for a great facial!
Dee was amazing! I highly recommend her services. She will definitely be seeing me again.
Dee was great! Loved how she explained each step of the process, so I knew what was happening! Looking forward to next visit already!
Dee is amazing, so knowledgable and so professional. She made my skin glow! the facial was so relaxing and I left feeling rejuvenated. I will be back
This salon is aptly named! Dee did a wonderful facial. She explained everything she was going to do ahead of time and then again as she was working. Pleasant and welcoming atmosphere. If I lived here, I would make facials with Dee a regular part of my self care!